BANFF TRAVEL GUIDE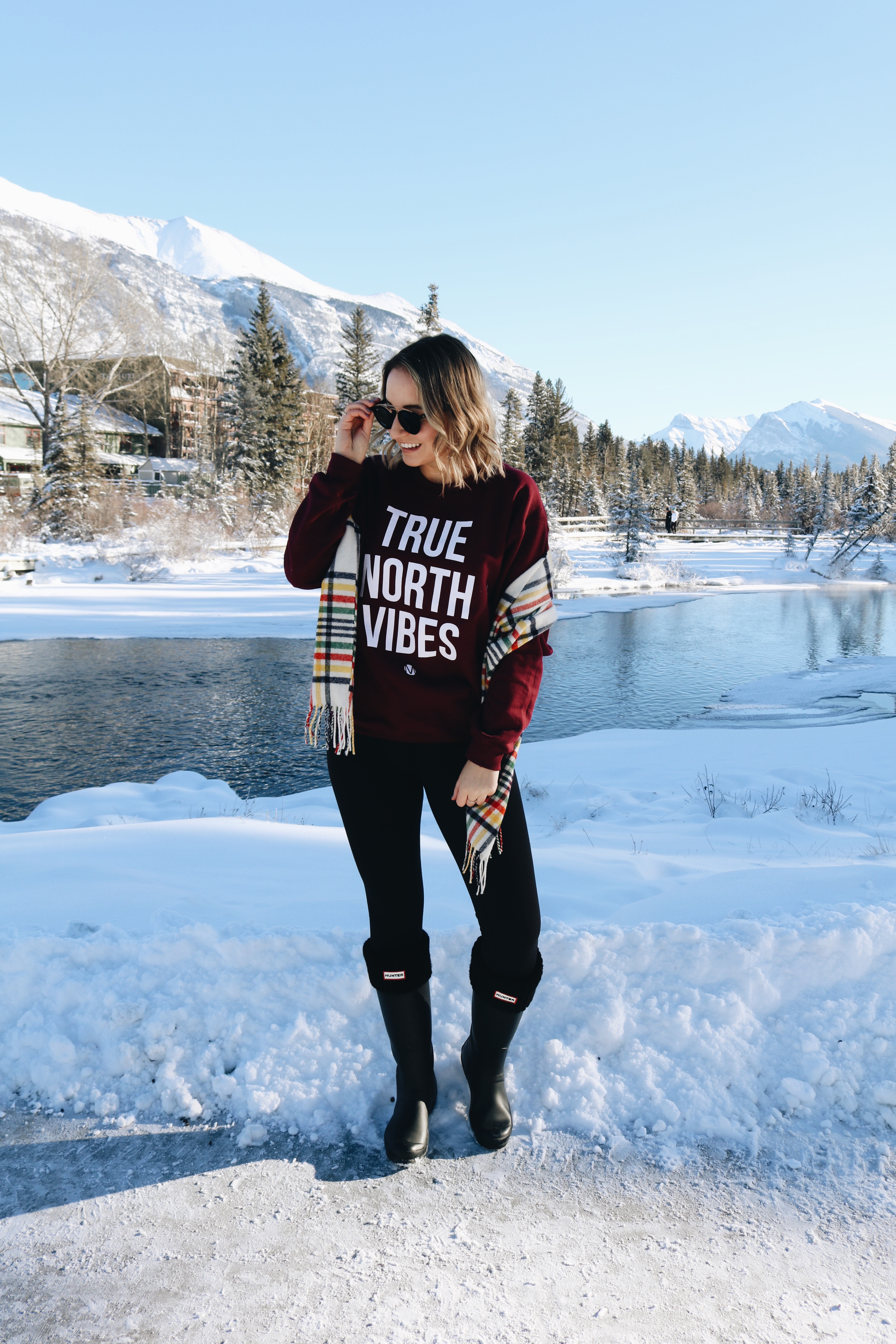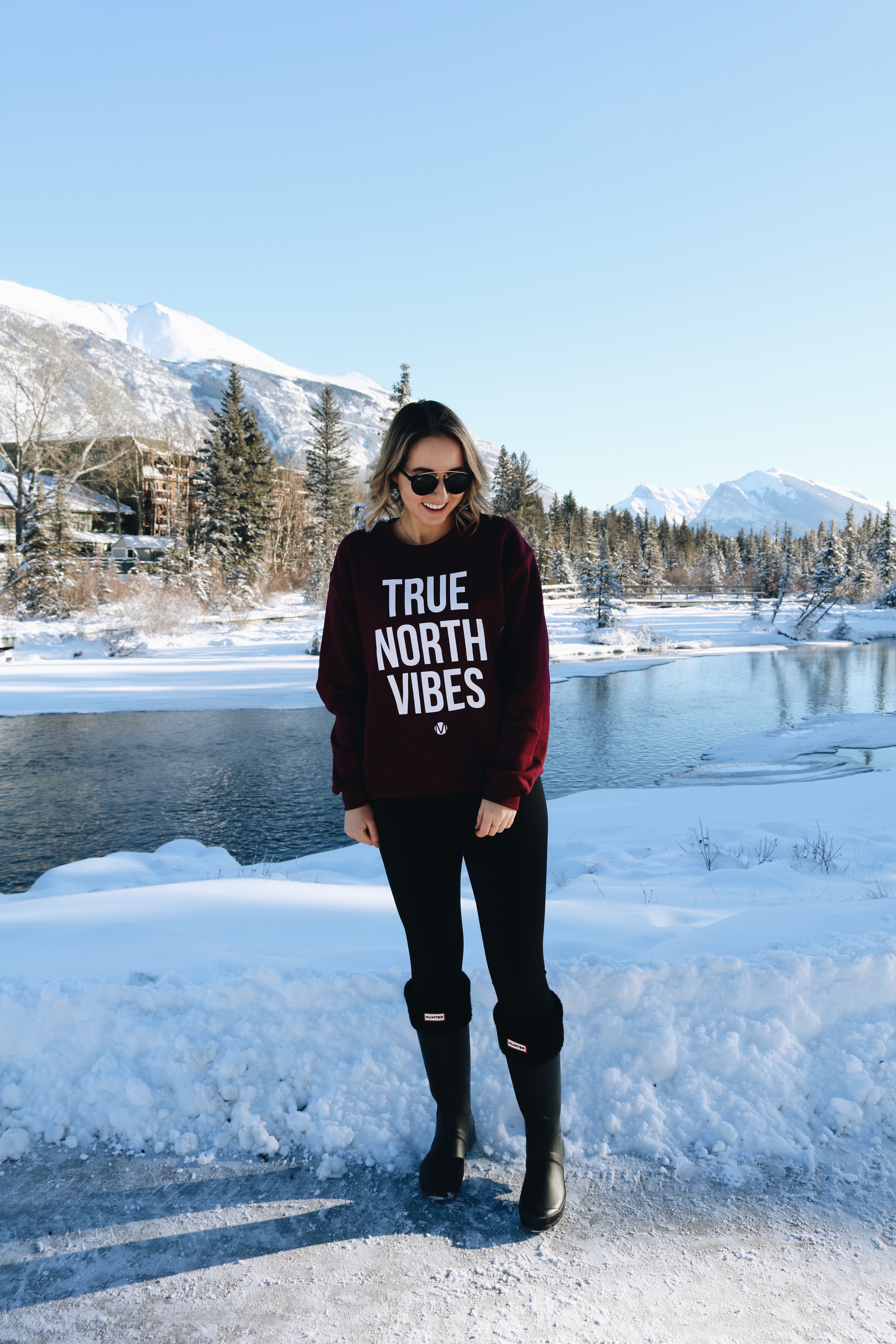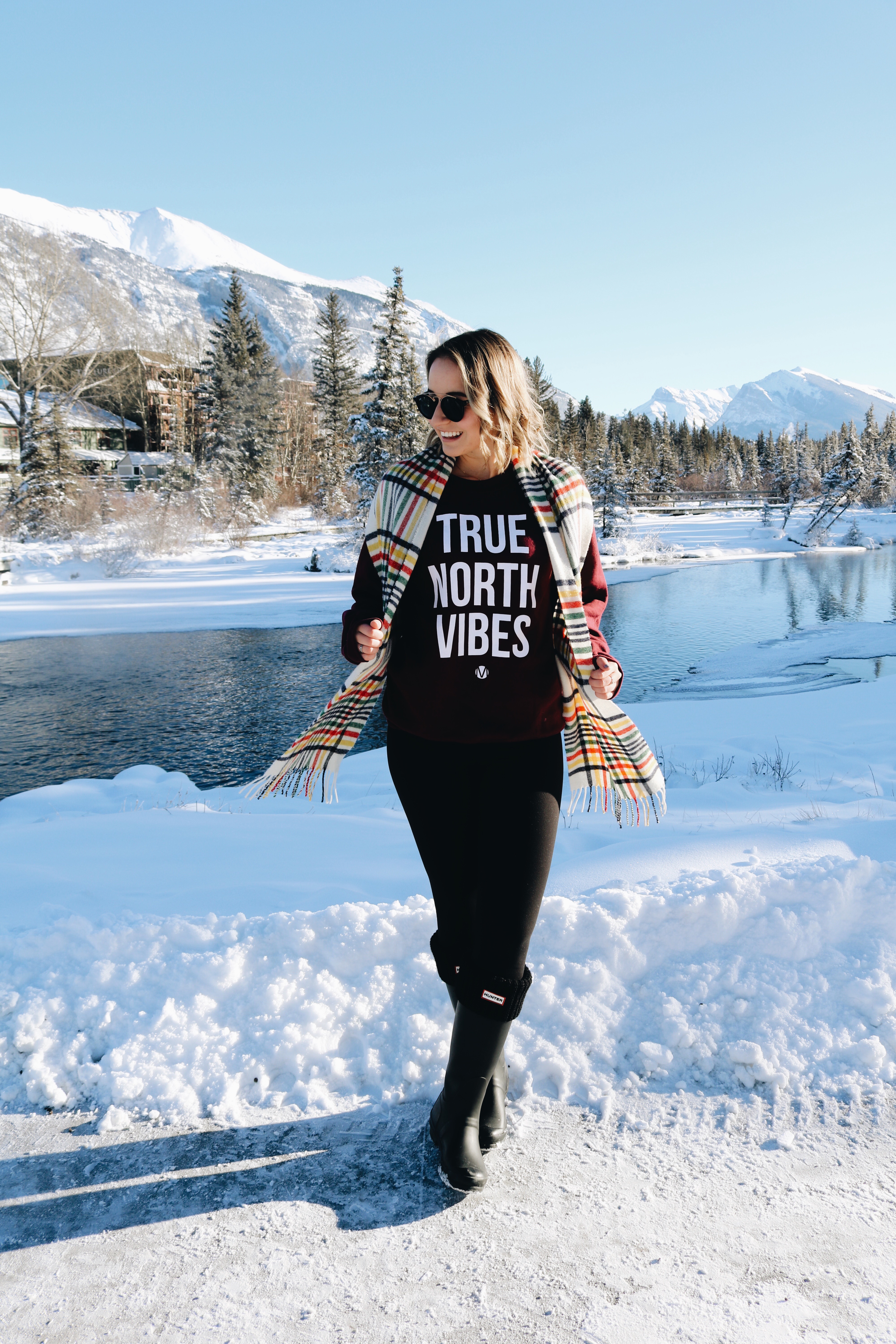 Banff is one of Canada's national gems, and whether you're from the True North or not, the quaint resort town is somewhere that ought to be put on your travel bucketlist! People come far and wide from all across the world to breathe in the mountain air – because seriously, it's a thing – and take in the snow-capped mountain vistas IRL. Just a 13 hour drive from Winnipeg, or a short flight to Calgary and then bus ride to Banff, it's one of those vacations that you can really make what you want of it! As long as you're willing to bare the cold (ALMOST but not quite as cold as home in the Peg!), the options for things to do, see, visit, and eat are endless!
Whether you're from the True North or not, Banff Alberta is somewhere that ought to be put on your travel bucketlist!
This New Year's, instead of taking my usual tropical all-inclusive vacay, we opted for a classic winter getaway to the one and only Banff. Myself and my boyfriend, my sister and brother-in-law, and my parents opted for the 14 hour road trip from Manitoba to Alberta for 5 days of snow-filled skiing, hiking, and R&R in the rocky mountains. I had been to Banff twice before, but never in the winter so this trip was something totally new for me.
Whether you're a thrill-seeking adventurer or prefer a more luxurious relaxation retreat, Banff will totally deliver. We were looking for a bit of a cross between both types of vacation, and B Town did not disappoint.
STAY
We chose to a condo in the town of Canmore, about 20 minutes from Banff National Park simply as we found a great rental to accommodate 6 people in a spacious modern suite. Platinum Suites Resort, just above downtown Canmore was the perfect home ground for our 5 night vacay, equipped with walking trails and gorgeous scenery, and a heated outdoor pool and hot tub, as well as a sauna. You can guess what we did every night after getting back after our day trips or dinners in the core of Canmore.
If you're traveling just as a couple or in a smaller group, there are tons of hotels, B&B's, and one room condos in and around Banff and Canmore. I loved having a condo though, as it was so nice to come "home" after a day out and cook up dinner, play games around the kitchen table, or lounge in the living room with a face mask and robe.
As well, with being in the mountains comes a ton of trails and places to explore on foot, or snowshoes! We could easily venture just outside of our resort for some fresh air and things to see.
EXPERIENCE
If you've been to Banff, you know its known for copious mountains and unreal skiing and snowboarding. We spent a day at Sunshine Village, a ski resort with over 120 runs for all levels of skiiers/boarders. If you're serious about either, you'd definitely want to schedule at least a couple days at Sunshine or check out Lake Louise Ski Resort, another incredible ski resort within Banff National Park.
Johnston Canyon hike is a must do for anyone visiting the rockies! With three different levels, lower falls (1.1 km), upper falls (2.7 km), and ink pots (5.8 km), anyone can make it work. The views are stunning and the crytal blue waters and frozen falls are truly unimaginable. I would warn, depending on snowfall, you may want to stop in town at any rental shop and borrow a pair of "ice cleats" that hook onto your boots and allow you to more easily hike up and down hills without slipping. $15 and totally worth it, as the hike is free of course anyways!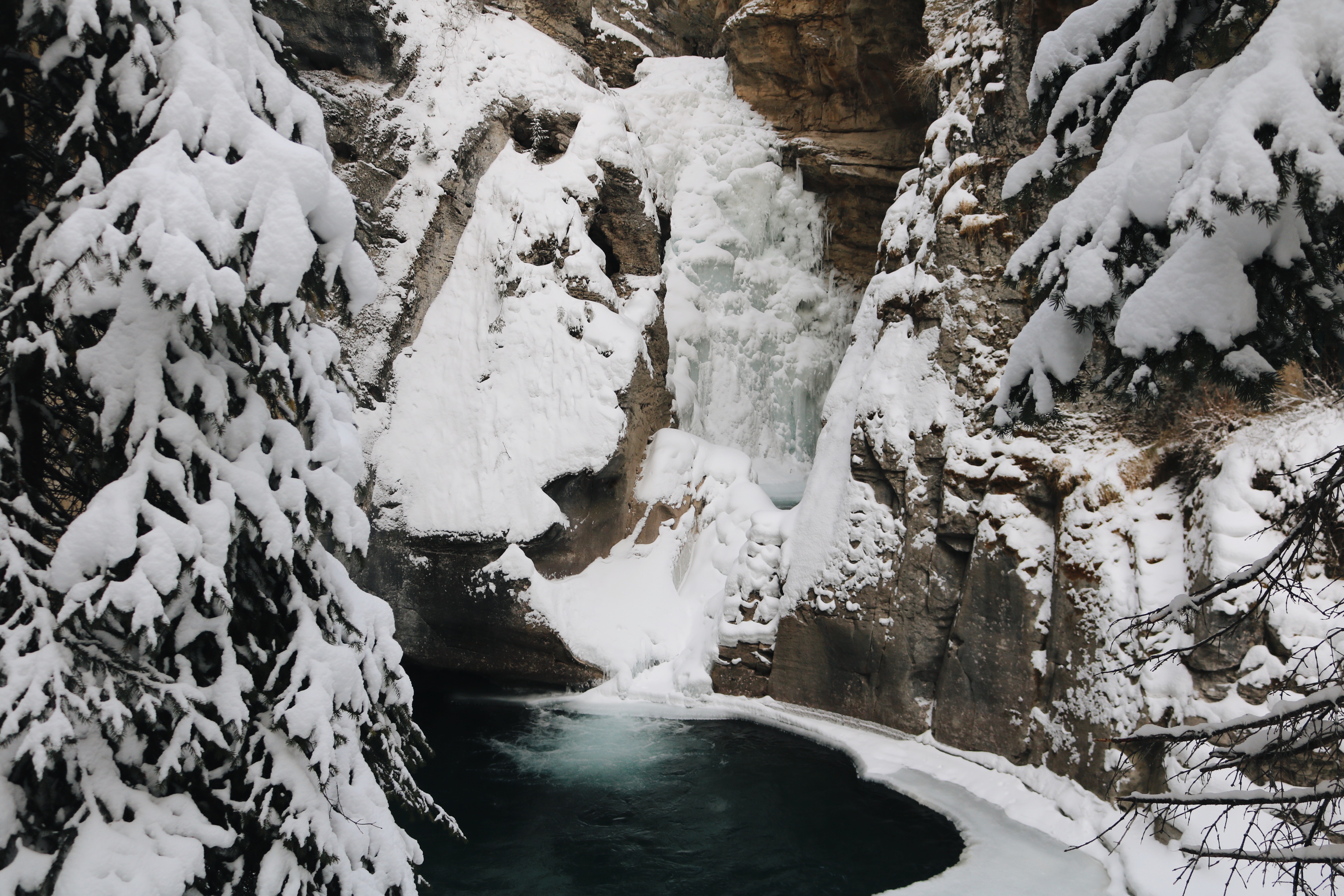 If you've seen photos of Banff before, chances are you've seen the postcard-esque view that is Lake Louise! Just 30ish mins from Banff townsite is an aqua blue lake set against the most picturesque mountainscape you've ever seen, capped off with the castle-like hotel, Fairmont Chateau Lake Louise! It's almost like you enter Narnia when you park your car at Lake Louise: the gleaming snow covered everything, ice castles and skating on the lake, and the fairytale like hotel pulling it all together. Although it doesn't offer the biggest variety of activities, the view it boasts is absolutely worth the time you'll spend there. Plus there's a few restaurants within the Fairmont all at different price points, so its a great place to head out for a meal as well!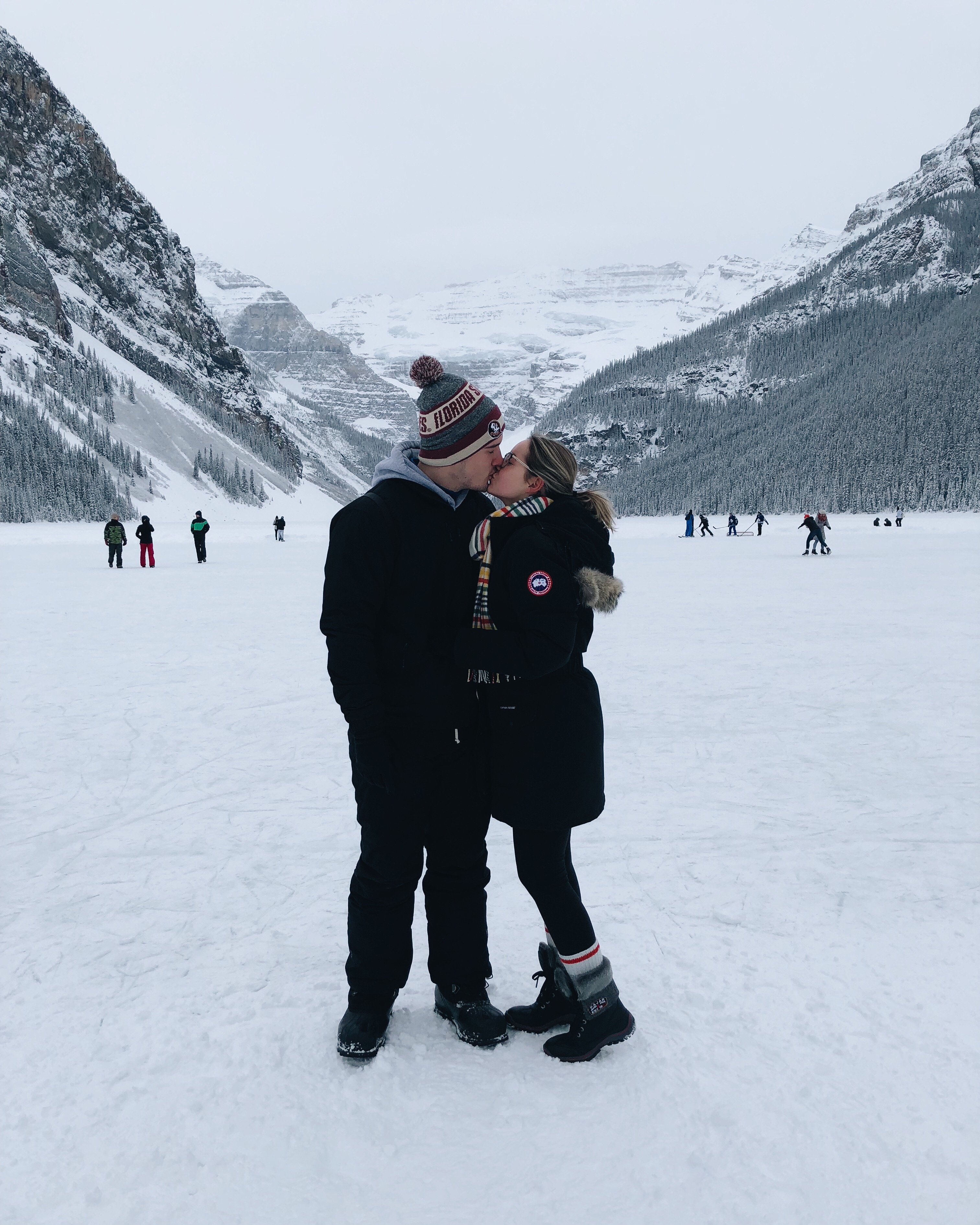 Afternoon Tea at Fairmont Banff Springs Hotel
After spending so much time outdoors and active, taking a couple hours one afternoon for a traditional tea experience was so much fun! We headed to the Fairmont Banff Springs Hotel where we were served afternoon tea like royalty. Starting with a selection of high end teas, we were each given a warmed tea pot to sip on through courses of fruit salad, croissants, and a wide variety of both sandwiches and desserts. Ask to be seated next to a window for a spectacular mountain view (as you can never have enough mountain views, clearly, based on this post) and two hours will fly by as you sip and chat. We made this afternoon a girls only experience, and decided it would be perfect for a bridal party or group of friends! If you take this trip with just your guy, I would still definitely recommend dragging him along! With so many sandwiches and treats to try, it's so much fun for anyone and unlike any other date you usually have. Plus there's tea infused cocktails, so if worse comes to worse just promise a few of those!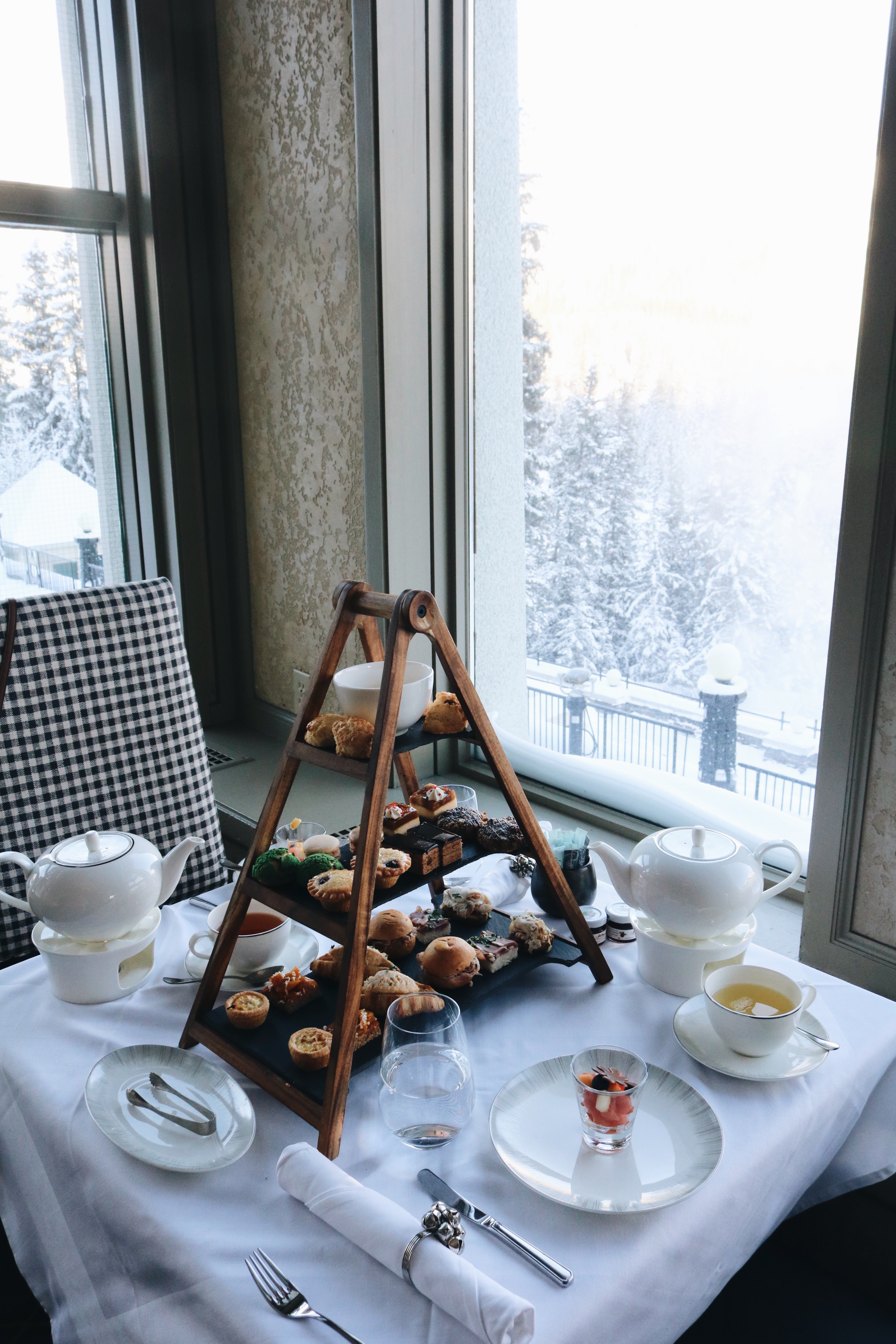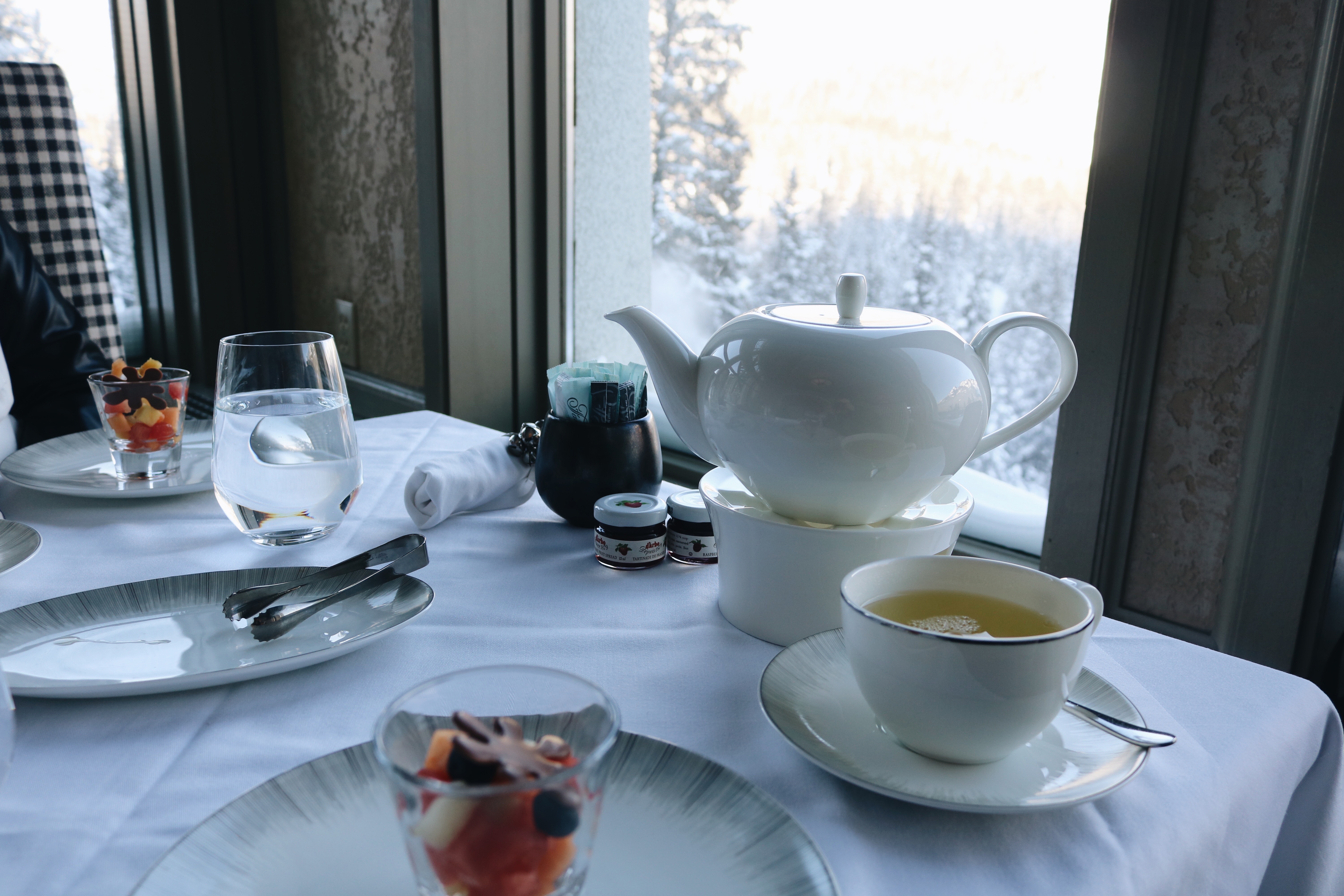 Banff Gondola and Sulphur Mountain Sky Bistro
If you're not one for getting up close and personal with the mountains by taking to a ski resort, taking a ride on the Banff Gondola is the next best thing! Although regular price for the gondola ride is $56, we booked the "Sky Experience" package which included a trip to the top of Sulphur Mountain (7000 feet!) and a two course dinner at Sky Bistro situated on the top of the mountain for just $85 per person, a value of over $120. So worth it in my opinion! I ordered the Chef's Winter Kale Salad and Squid Ink Seafood Tagliatelle and it was one of the best meals I've ever had! Everyone else loved their bison and AAA steaks, and the restaurant vibes were contemporary but cozy – definitely my restaurant style. The only thing about the Sky Experience package is that it can only be used for dinner, meaning that it's already dark outside by the time you head up in the Gondola so the views aren't quite as majestic as they would be during daylight. But still, I totally recommend to get the most bang for your buck.
TOWN
Both towns of Banff and Canmore are both major tourist towns with restaurants, bars, shops, and cafes lining the streets. You could easily spend a morning it afternoon (window) shopping.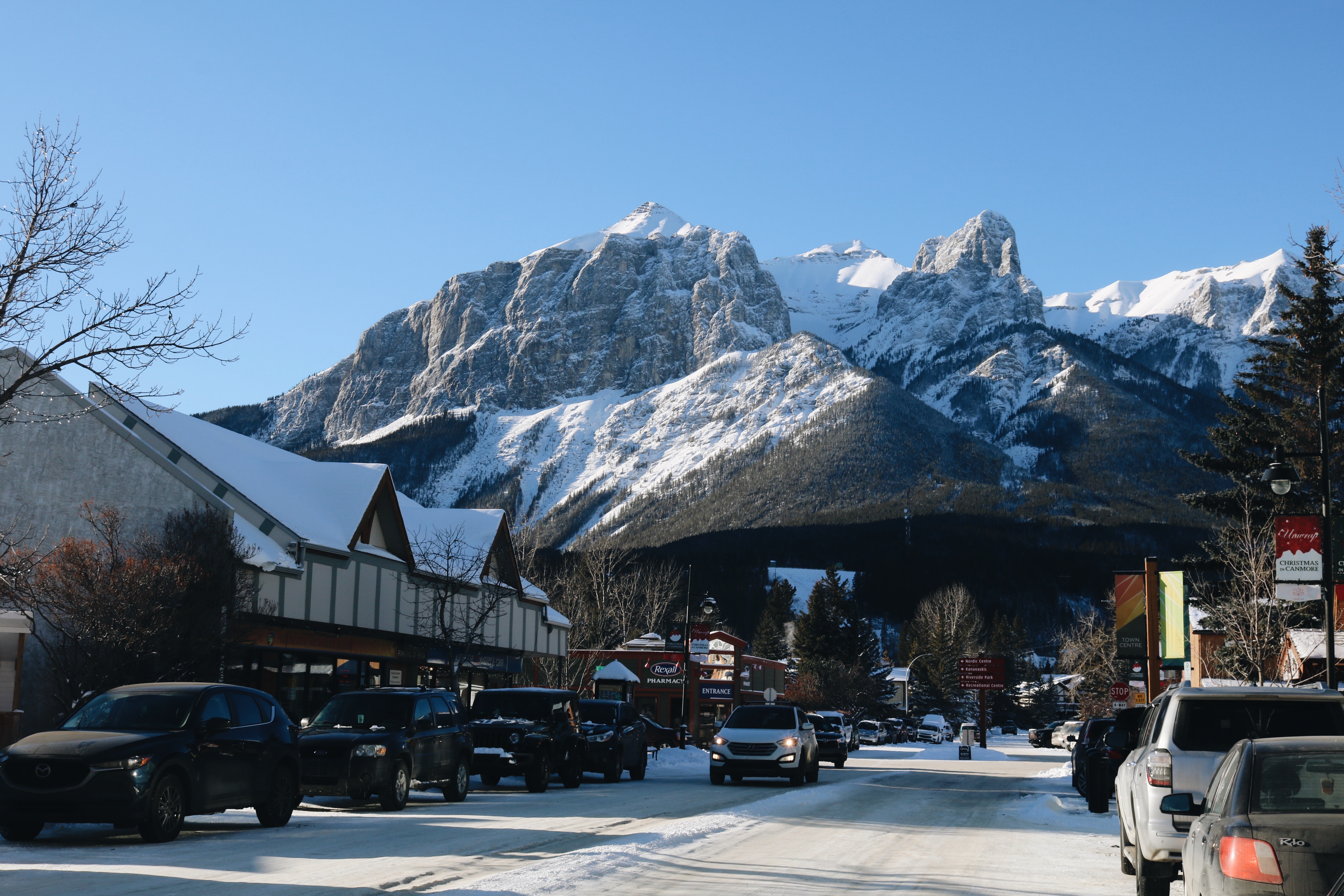 From what I saw, although I didn't hit all the stores, Canmore seemed to have a more boutiques and trendy shops, while Banff, much larger and with more variety, had gift shops and stores like lululemon, DAVID's TEA, North Face, and Hudson's Bay to name a few.
On the main strip in Canmore, you MUST hit Rocky Mountain Bagel Co.! I swear their bagels are the best in Western Canada. They were light and fresh and sooooo good, I think I could have eaten 5. I also loved Evoolution, an olive oil tasting bar, the perfect useful souvenirs or gifts to bring home. I had to head into o'canada soapworks, an all natural soap store in the cutest little log cabin where I picked up some bath salt soaks and chapsticks.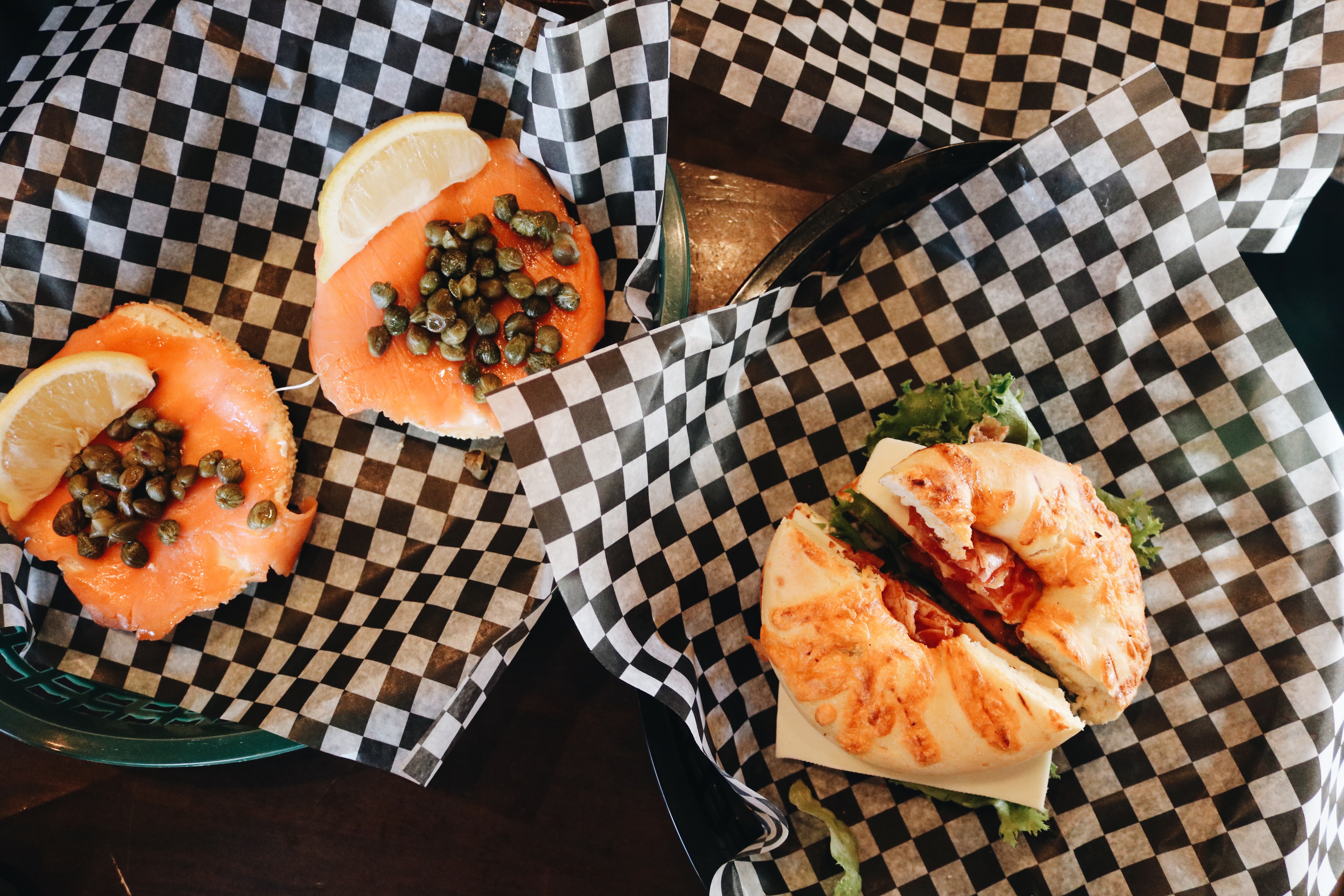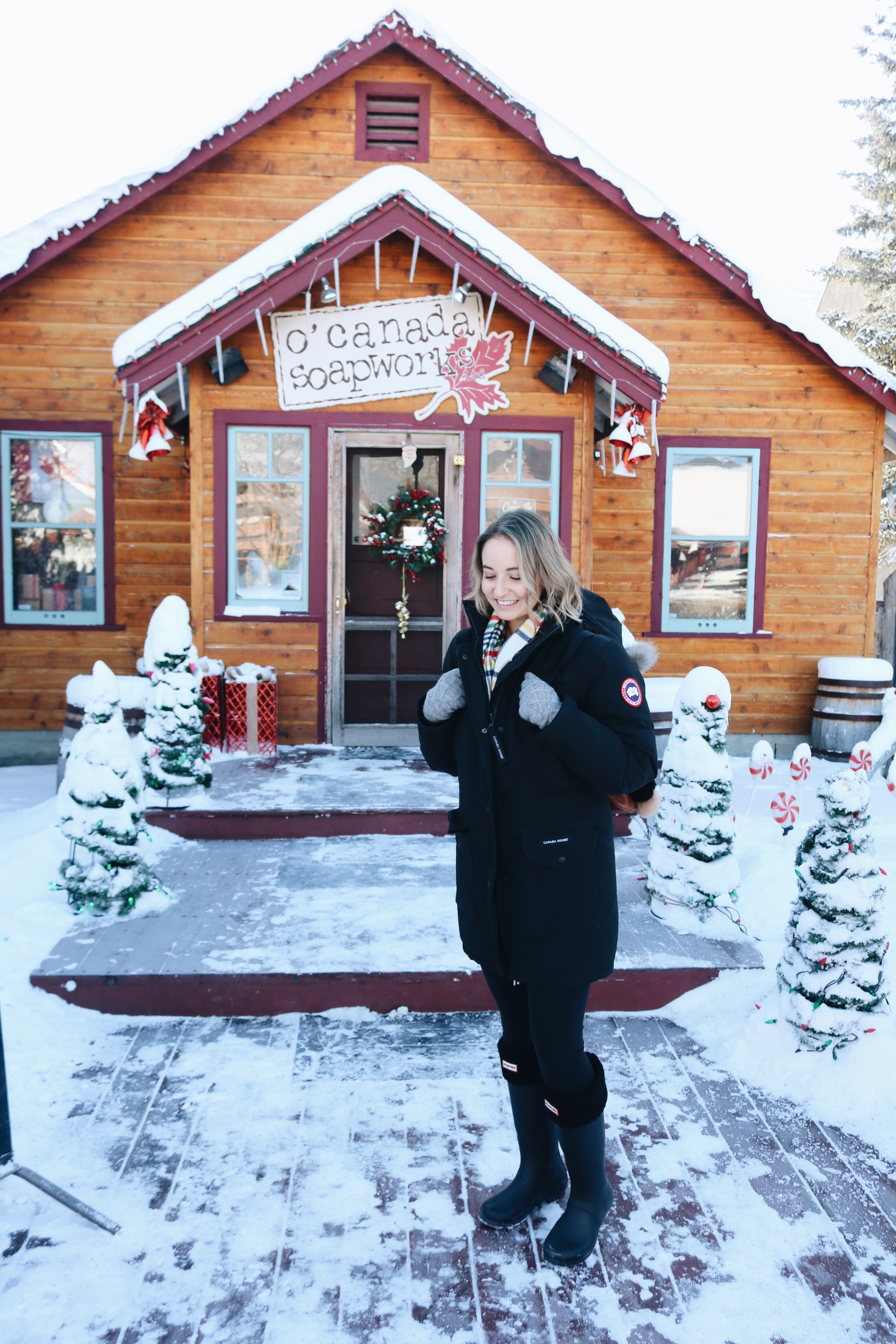 In Banff, aside from the many shopping and eateries, not far from town are the Banff Upper Hot Springs! A natural hot spring pool in which people flock to during afternoons and evenings to warm up after days on the slopes. For under $10, you can slip on your swimsuit and swim in natural mineral water. We didn't make it this trip, as we tried a few times but the springs were extremely crowded so we were just as happy to head back to the condo and bring our classic Hot chocolate and Fireball into the hot tub there! If it weren't for our own hot tub, we definitely would have made more of an effort to use the Hot Springs.
This trip was a blast and I would recommend any Canadians make the trek out! If you're from the US or elsewhere, this should no doubt be a top spot to see on your Canadian travels! With so many options for things to see and do, you can easily make Banff anywhere from a 3-7+ day trip. Winter time in Banff was just breath-taking and such a blast. I'm already looking forward to the next time I return, but maybe next time it'll be in the summer to take in some canoeing, more hiking, patio drinks, and mountain exploring in the sunshine!
MY LOOK
Before this trip, I came across MAI ATHLETICS, an active lifestyle brand designed and printed right here in Canada and instantly fell in love with their "TRUE NORTH VIBES" crewneck! There is truly no better way to put Canada into words than with this phrase, and being able to sport it right on my apparel gives me such national pride! Available in both maroon and grey, this best-selling piece is available for both men and women, along with tees, tanks, and hats that MAI offers. I'm all for supporting local and when local looks this good… how could you blame me!
Instagram: @maiathletics
Website: www.maiathletics.com
GIVEAWAY ALERT! Head to instagram.com/brainsandbronzed later today to see how you can get geared up with Mai!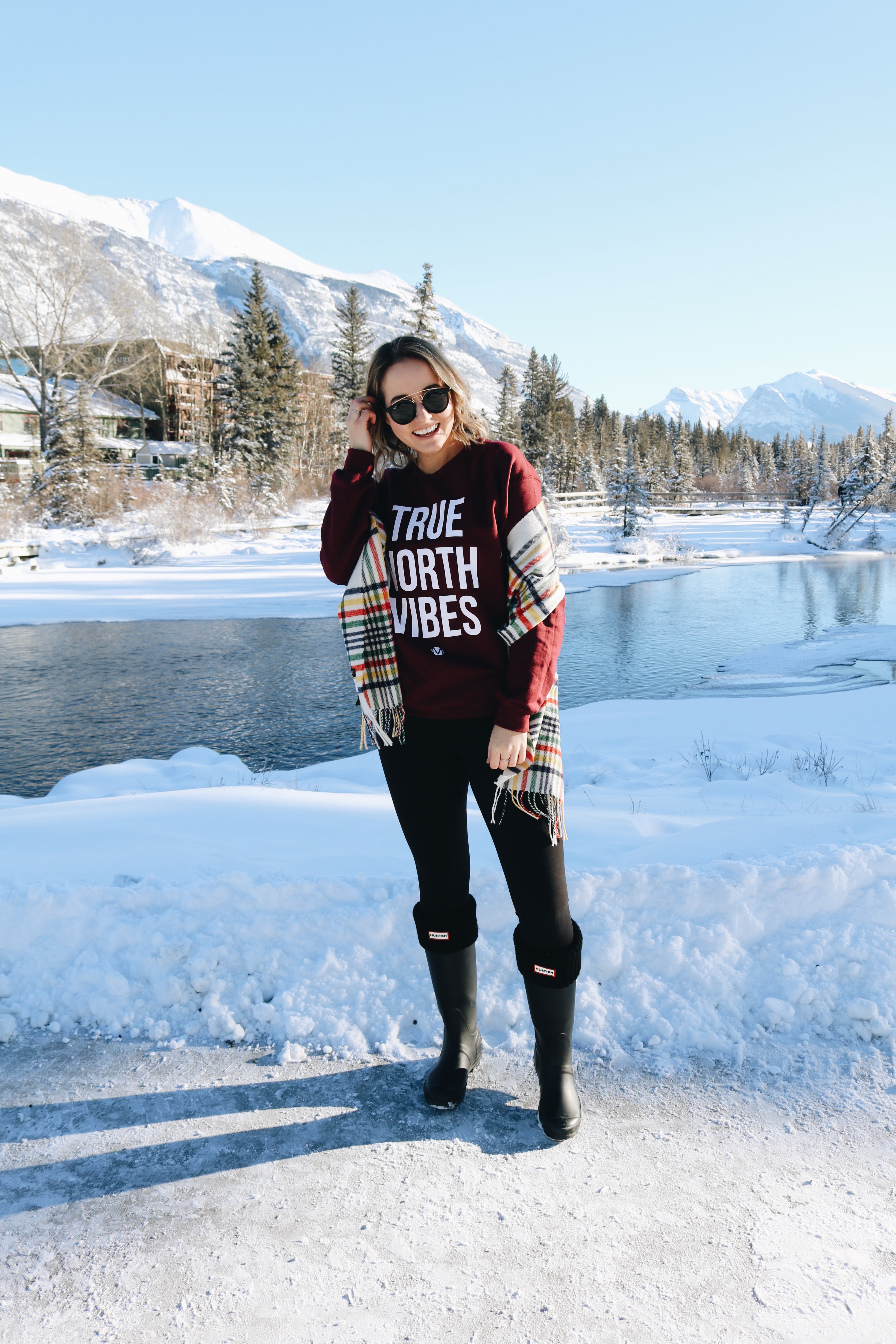 ---